PAPA'S FISHING REPORT
November 24, 2015
It has been quite the week on the Pier! We've had sun, we've had humidity, we've had rain, and we've had a cold front. Wow! It's amazing what nature can do in such a short period of time. We had a lot of fun out here this week. Bonito and Kings were being caught left and right- even on our rainiest morning! We had a great Cobia caught, Flounder of decent size were being brought up, and even some Snook! Speaking of Snook don't forget that season closes in one week! December 1st Snook season will be closed. So fish for them while you can! Remember though, they need to be between 28 and 33 inches and you may only harvest one per day.
Don't forget that our Fall Family Fishing Tournament is THIS SATURDAY! Grab the kids and come out, it is always a great time. You can sign up by either sending us an email, or coming out to Papa's Bait Shop.
We also have created a new Facebook page! If you haven't seen it yet, CLICK HERE and check it out. If you have any photos from our Pier please send us an email, we'd love to post them on our page!
Hopefully you can make it out to the Pier this week and join us. Have a cup of coffee, catch a fish or two, and enjoy a sunrise or a sunset. We always love to meet our readers and hear their fish tales.
May you all have a wonderful and safe Holiday week.
-Ladyfish
---
PAPA'S FISHING REPORT
November 17, 2015
About time we saw a little bit of a cold front! The cooler temperatures this past week dropped our water temperature to 76-78 degrees. Towards the end of the pier this week barracudas, bonito, and kingfish were being caught. I'll include some photos at the end of our post. Barracudas, Bonito, and Gulf Kings fall under "unregulated species." "Unregulated" can be misleading because standard recreational gear requirements still apply, and there is a default bag limit established by Florida Statute for any species harvested by a recreational angler. If you have any questions or concerns on unregulated species CLICK HERE to read more from the Florida Fish and Wildlife Conservation Commission.
There were not many flounder caught this week, but there were plenty of bluefish and mackerel! While fishing Saturday evening the gentleman next to me pulled up 5 bluefish of decent size in less than an hour. My luck was not so great, but it was still fun. Which makes me want to remind you, it doesn't matter if you're a pro angler, or a beginner. Get out and fish! Take a friend fishing, take a kid fishing, take a brother, sister, parent- go out and have fun. Watch a sunrise, catch a sunset, have a few laughs. It's good to get out of the house, and we're always up to something on the pier! To all of our families out there- DON'T FORGET! Fall Family Fishing Tournament is Saturday November 28th. Click Here for more information or drop us an email! Happy Fishing!
-Ladyfish
Some of this weeks catches!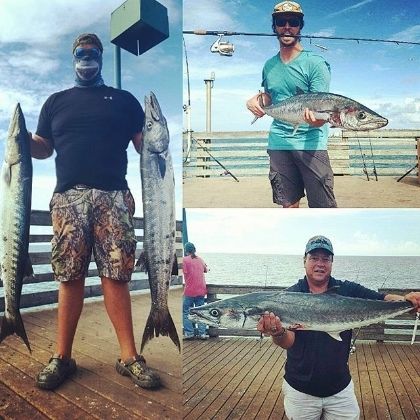 ---
PAPA'S FISHING REPORT
November 10, 2015
The kingfish and bonito have been here this week! Despite the pier being closed most of this past weekend there was still a lot of action going on earlier this week. I've attached a few photos below of some of the bonito and kings that were brought up in the last 7 days. Unfortunately the water temperature was still in the mid 80's this week and the weather was at a record high temperature for November. This isn't the best for fishing, but it certainly beats stormy weather and catfish!
Don't forget Snook season is still open! Until December 1st you are able to catch Snook and keep one per day as long as it is between 28 and 33 inches. This week they were gathering around the pier in bounty. Along with them there were tons of sheephead gathering by the pylons.
As of today, Tuesday November 10th, the water was a little choppy and this morning was pretty stormy. But we're hoping for some cooler weather this week! I'd also like to touch base on the red tide condition. Thankfully there has not been any red tide in water or the air around the pier for the last few weeks.
We'd love to see you on the pier this week! Stop by for a coffee, or come see some of our new fun Papa's shirts and hats we have at Papa's Bait Shop! Happy Fishing!
-Ladyfish
Some of this weeks catches!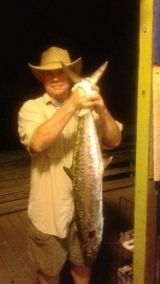 ---
PAPA'S FISHING REPORT
November 3, 2015
Fishing was a little slow earlier this week due to the heavy amounts of rain on Tuesday and Wednesday. This brought choppy and cloudy water and of course- catfish. However the week cleared up and fishing did improve. As of this past weekend there were quite a few mackerel being caught at the end of the pier, and the occasional flounder in the early mornings and later evenings. The water temperature is still averaging around 80 degrees, which is still on the warm side. But as we enter November and these cooler months, the temperature will drop and we hope to see fishing improve. Unfortunately this upcoming weekend there will be no fishing allowed on the pier from Friday November 6th at 11:59PM until Sunday November 8th at Noon. This is because of "The Challenge Florida Triathlon" The pier will be open for walking, enjoying sunrise and sunset. Papa's Bait and Snack Shop will be open at our regular hours for coffee, snacks, apparel, and for bait and tackle supplies if you plan on fishing at another location for the day. I would also like to remind everyone about our Fall Family Fishing Tournament November 28th. If you have any questions about the tournament check out our Calendar of Events Page or drop us an email!
Red Tide has still been very light around the pier and has not been affecting fishing. We will continue to update this on our home page as needed, or until the Red Tide is officially gone.
We always appreciate our readers and would love for you to come out if you haven't already! Stop by the Bait Shop to get the latest info on what's biting, and what they're biting on. The Bait Shop Crew is here to help you with information and is always happy to share a few 'fish stories' over a cup of coffee in the morning.
Here's to another great week on the pier!
-Ladyfish
---
PAPA'S FISHING REPORT
October 27, 2015
Bonito have been making an appearance around the pier this week! Sunday morning Bob caught not only one, but two just before 9 AM! Some of our other fishermen were not so lucky and lost their battle with the Bonito, but had a fun time nonetheless. Bonito are an unregulated species, which means you may only keep two fish, or 100 pounds per person, per day- or whichever is more. They are not highly recommended for eating, but they sure are fun to catch. For more information on unregulated species such as Bonito, check out The Florida Wildlife Conservation Website.
If you've been following me the last few weeks you'll know that Flounder fishing has been fantastic out here on the pier. Early mornings and later evenings (around sunset) have been the best time to catch Flounder. Remember, Flounder need to be at least 12 inches and you may only harvest 10 per day. Also don't forget- Snook season is still open! With the water being so clear this week we have been able to see a lot of Snook swimming around, they're a great fish to catch and even to eat. Season closes December 1st so come out and get them while you can! Please be mindful that they are a hook and line fish only, and you may keep 1 per day. The size requirement is to be no less than 28 inches, and no more than 33 inches.
A few Kingfish have been caught this week at the end of the pier. Kings are a schooling fish that migrate from south Florida waters in winter, so we're hoping to see more of those in the next few weeks as the weather changes. I would also like to touch base on the red tide condition. Thankfully we have not had a problem with it on our beach or around the pier. We will keep you updated on our homepage if this changes throughout the week.
Whether you're fishing for Sharks, Flounder, or Snook, or just want to catch a sunset or sunrise, we hope to see you on the pier this week. And remember, if you have a photo from our pier you'd like to share with us, send us an email, we'd love to feature you! Happy Fishing!
-Ladyfish
Bob and the Bonito he caught this Sunday!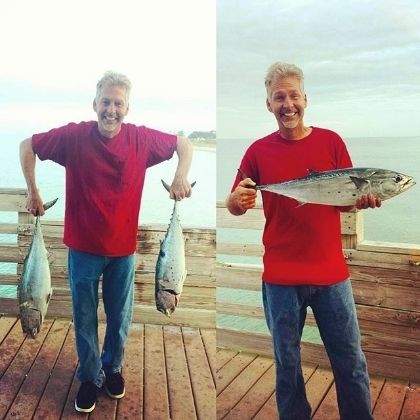 ---
PAPA'S FISHING REPORT
October 20, 2015
It's amazing how much can change in one week. We have so much to catch up on!
If you've been out to the pier in the last few days and noticed the traps out in the distance, that is because stone crab season has opened. You can see a great video about how to harvest stone crab claws in our Tip of the Week section. Like with anything stone crabbing comes rules. Some of the most important ones are that claws must be 2 1/3-inches, and you cannot harvest egg-bearing crabs. There is also trap specifications you will need to know if stone crabbing is something you think you may want to become involved in. For more information regarding stone crabbing, traps, and other information, visit the MYFWC website for all rules, regulations, and facts.
There has also been a noticable temperature drop this week! This cold front has caused the early mornings to start out at a chilly 65-68 degrees with heavy wind. It's a nice change, and a reminder that winter is coming… This week we also experienced the coldest water temperature of the year- 79 degrees! Although the temperature drop in water brings back some of our favorite fish, this coldfront has also clouded up our water. Don't worry though- I've still seen some great catches this week! I've witnessed two 18 inch flounder, a few king fish at the end of the pier, and yesterday morning the mackerel were leaping out of the water every few minutes. It was a great site to see, and a reminder of how fascinating nature can be and how we should never take advantage of it.
Despite the cold weather out here we hope you come out to the pier and see us this week. Have some coffee with us, or if you prefer hot chocolate, and come catch a fish- or at the very least a sunrise or a sunset…
See you soon!
-Ladyfish
---
PAPA'S FISHING REPORT

October 13, 2015
The flounder are back!!! It's been a great week for flounder fishing here on the Venice Fishing Pier! Especially in the early mornings just before sunrise , and in the shallow waters closer to shore. If you plan on coming out and having a go at flounder fishing remember to only keep those that are of legal size. For flounder that is 12 inches. You are allowed 10 per harvest per day. For any more questions about flounder visit the MYFWC website. There you will find habitat and fishing tips, gear requirements, and much more!
In other news the water temperature continues to drop and is averaging the low to mid 80's throughout the day. The cooler the water becomes the more fish that come back! The water clarity has also been great too, crystal clear, beautiful blue water. You have to see it to believe it. And rumor has it there were a few pompano caught over the weekend here too…
We're expecting another cold front this week, so bundle up, come on out to the pier, have a cup of warm coffee, catch a sunrise, and maybe a fish too! We'd love to see you!

-Ladyfish
---
PAPA'S FISHING REPORT
October 6, 2015
Ladyfish here! Papa's been so busy lately that it's been a while since we've given you an update! But I can assure you that you can expect one weekly now. If you haven't visited us on the pier in a while come on down! The first thing you'll notice is that our Bait Shop has been given a facelift, new paint is the first thing you'll see. You might also notice that our beach has been re-nourished! It's beautiful and much larger. Now let's get to the important stuff-How's the fishing been?
Early in the week we experienced a small cold front accompanied by some choppy water, wind, and light rain throughout the day-this led to a lot of catfish being caught here on the pier. But with the weather clearing up, and with the water temperature slowly starting to cool down, we can expect fishing to pick up!
It was a slow summer, but schools of greenbacks are finally making an appearance daily, and you know what that means! This brings in the larger fish in great varieties. And don't forget! Snook season is still open and they can be seen schooling in the shallow water at the beginning of the pier. Remember though, please be a considerate angler and only keep the snook, and also other fish, that are of legal size. If you are unsure of what is in season and what the legal size for certain fish are, please stop by Papa's Bait Shop and pick up a free Fishing Regulations magazine. It has all of the regulations and information you will need on both snook legalities, and other good-eatin' fish. You can also find this information on the Florida Fish and Wildlife Conservation Commission website.
Come out to the pier and join us! Come out in the AM when it's cooler, enjoy a hot coffee, take a minute to catch the sunrise! Or in the evening where you can always enjoy a perfect sunset over the gulf. And who knows, you may even catch some fish…
-Ladyfish